On April 17th, 2018, Vermont Speaker of the House Mitzi Johnson (pictured center) samples one of retiring representative David Sharpe's (D-Addison 4, pictured left rear) neckties on Senator Randy Brock (pictured left, R-Franklin). Sharpe is retiring at the conclusion of this year's session, and is selling numerous themed neckties he has worn throughout his legislative career to benefit Friends of the State House.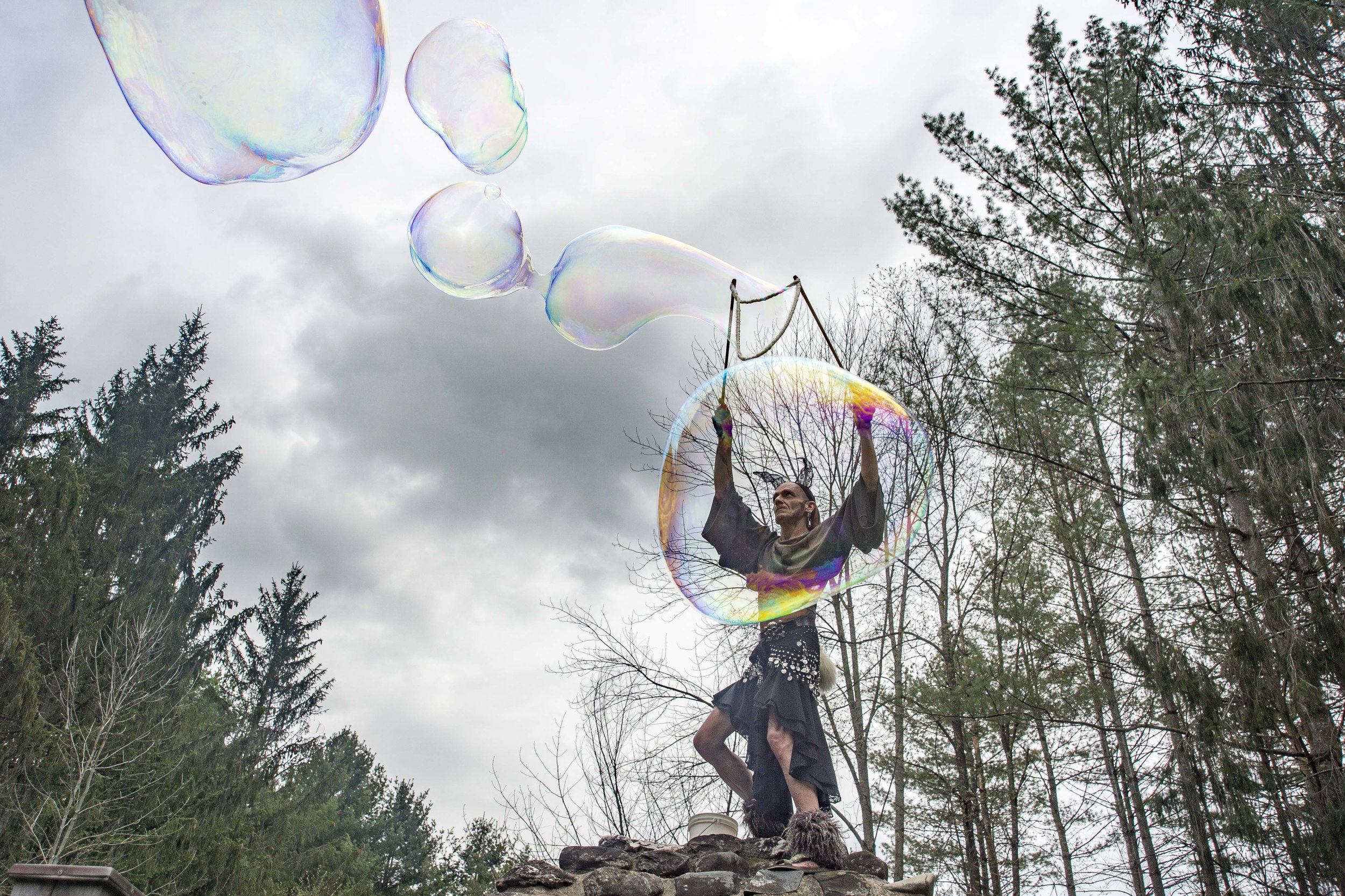 William Bridwell releases extra large bubbles into the crowd during the annual All Species Day Parade in Montpelier's Hubbard Park on May 6th, 2018.
Representatives mingle before Governor Phil Scott delivers the fiscal year 2019 budget address in the House Chamber of the Vermont State House on Tuesday, January 23rd 2018.
 
The Barre Fire Department responds to a propane tank explosion and fire on May 5th, 2018 at Northern Power Systems.
Keene Swamp Bats outfielder Alex Carballo (Junior; Pembroke Pines, FL / Kennesaw State) is tagged out by Mountaineers catcher Tanner Gallman (Sophomore; Calhoun, GA / Georgia State) on July 10th, 2018.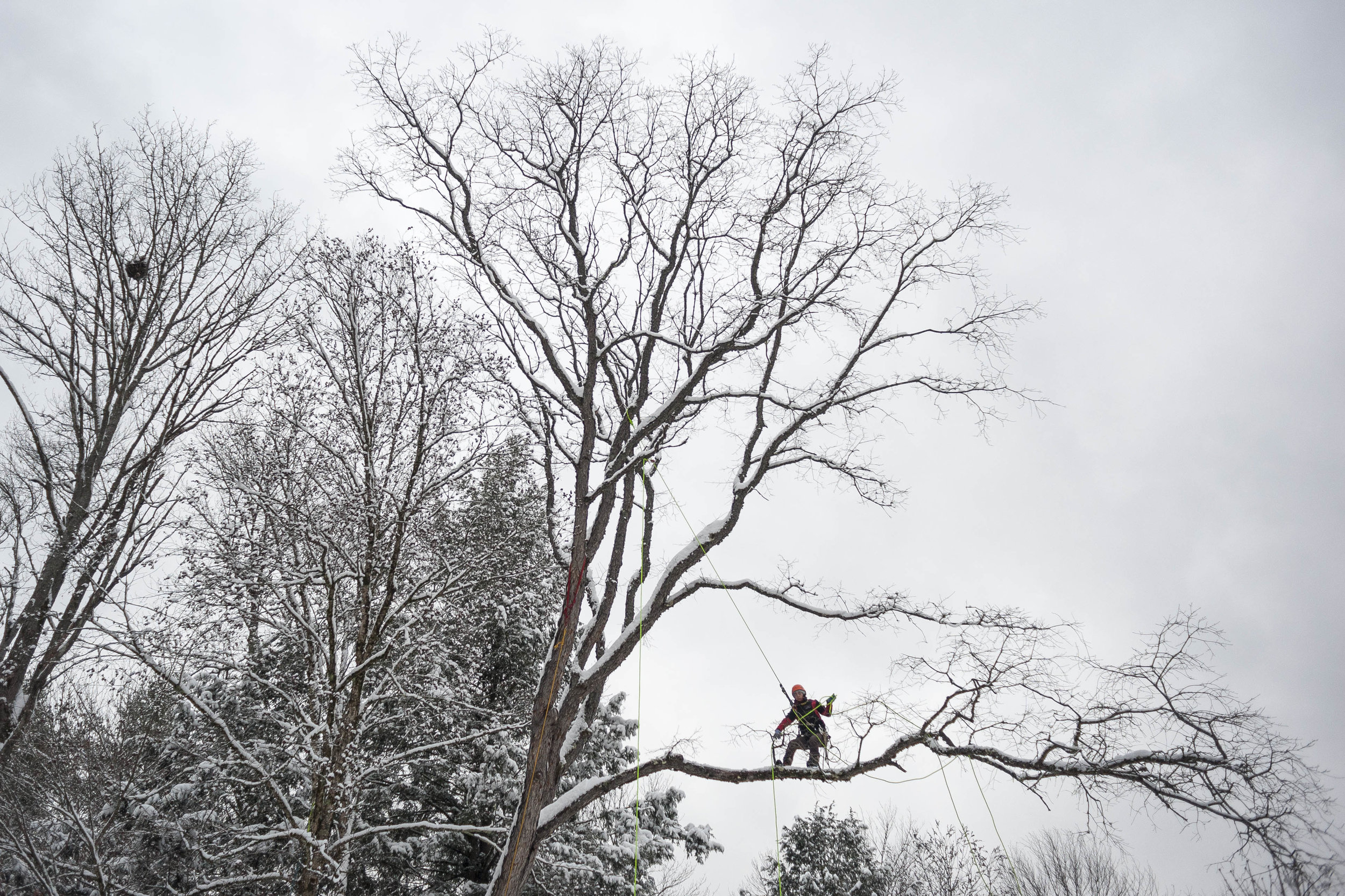 Montpelier Parks & Trees ECO AmeriCorps member Emily Markstein of Burlington receives training from North American Training Solutions (N.A.T.S) in Hubbard Park on Tuesday, December 19th 2017. N.A.T.S worked with several trainees in the park on work positioning and advanced climbing techniques.
Snow removal efforts continue into the night in the shadow of the Vermont State House in Montpelier on Sunday, January 7th 2018.
Members of Migrant Justice, a Vermont organization that advocates for migrant workers in the state join with hundreds of Vermonters in protesting U.S. Immigration policy at the State House in Montpelier on June 25th, 2018.
Spaulding senior forward Isaiah Browman reaches for a rebound against visiting Rice at Spaulding High School in Barre on Tuesday, February 13th 2018.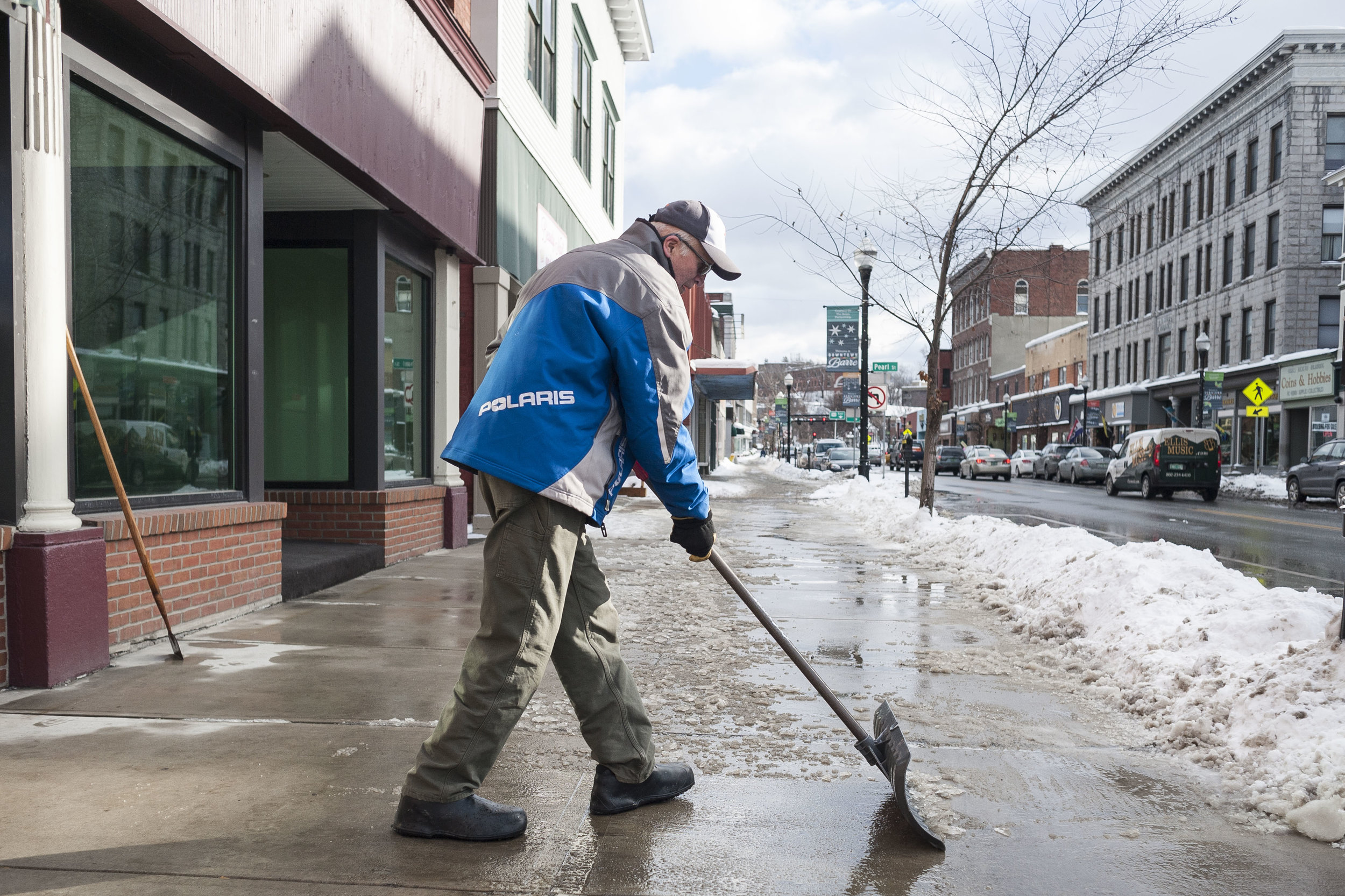 Derek Bartlett clears the sidewalk on Main Street in Barre on Tuesday, January 9th 2018. Warmer temperatures finally allowed Bartlett to finish clearing ice from previous storms during the cold snap.
A Montpelier firefighter emerges from a house fire on Main Street with a frightened cat on Tuesday, January 2nd 2018. All tenants were evacuated safely but several pets did not survive.
Representative Peter Welch (D-VT) and Senator Patrick Leahy (D-VT) share a moment on May 1st, 2018 after the completion of a press conference at Morse Farms in East Montpelier to highlight opposition to an FDA proposal to require an "added sugar" label on pure maple syrup.
The Barre Figure Skating Club holds a dress rehearsal for their annual show at the B.O.R Ice Arena on Sunday, February 11th 2018.
Blue Mountain Union's junior Annie Dennis (L) battles Arlington junior Kierstyn Hess (R) for a loose ball at the Barre Auditorium on Monday, March 5th 2018.
Noah Ladensack of Duxbury wows the crowd with a wheelie during the annual Not Quite Independence Day Parade in Waterbury on June 30th, 2018.
Operations Manager John Townsend of Essex Junction sharpens ice skates at "The Skatium" in Waitsfield on Tuesday, December 26th 2018.
Capitol Police officer Dale Manning snaps an ID photo of new Legislative Page Linnea Colwell of Montpelier as the State House prepares for the 2018 legislative session on Tuesday, January 2nd 2018.
Young fans of Bernie Sanders cheer on the Senator during the Independence Day Parade in Montpelier on July 3rd, 2018.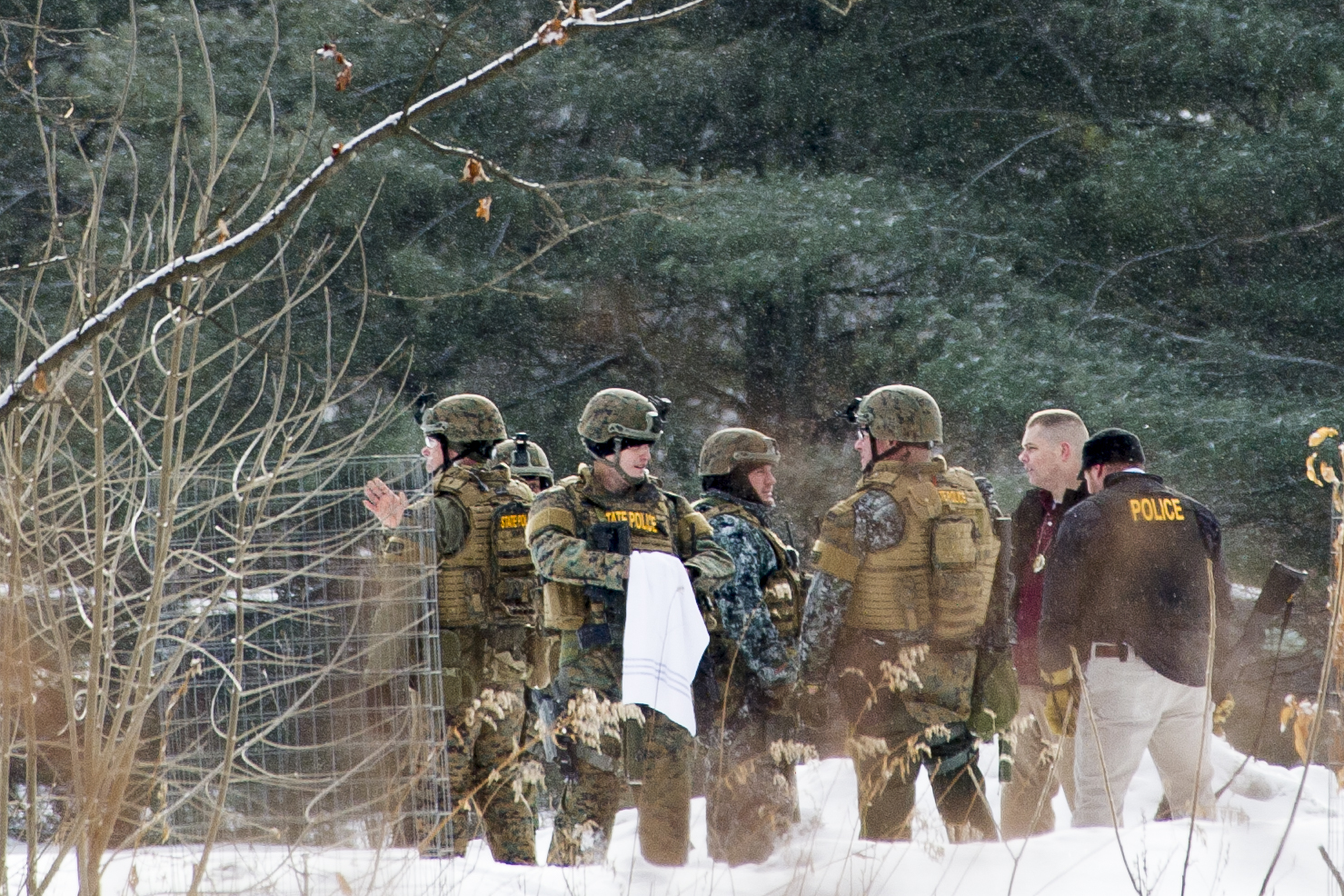 Vermont State Police officers gather after fatally shooting Nathan Giffin on the athletic fields at Montpelier High School on Tuesday, January 16th 2018. Giffin robbed at gunpoint the Vermont State Employees Credit Union adjacent to the school, where he was once a student. After a nearly-hour long standoff, during which Giffin made suicidal statements and threats, eight state troopers and one Montpelier Police officer opened fire, alleging that he moved toward them with the weapon. The weapon turned out to be a BB-gun.
The Winooski River flows through the Waterbury Dam in Little River State Park on Sunday, January 28th, 2018.
Kale Barberi of Marshfield talks with his son Gavin, 4, as groups opposed to new gun legislation, donning blaze orange apparel, turned out in high numbers to attend public hearings at the State House on Tuesday, January 30th 2018.
U-32's senior guard Josh Farber secures an offensive rebound through heavy traffic against visiting BFA St. Albans on Tuesday, January 9th 2018.
Narin Phanthakhot of Colchester successfully completes a "clean and jerk" lift at Green Mountain Crossfit in Barre during their annual "Lift Up!" Fundraiser on Saturday, January 20th 2018.
Norwich University Sophomore forward Taeron Lewis leads an offensive charge against visiting Hobart College on Saturday, January 20th 2018.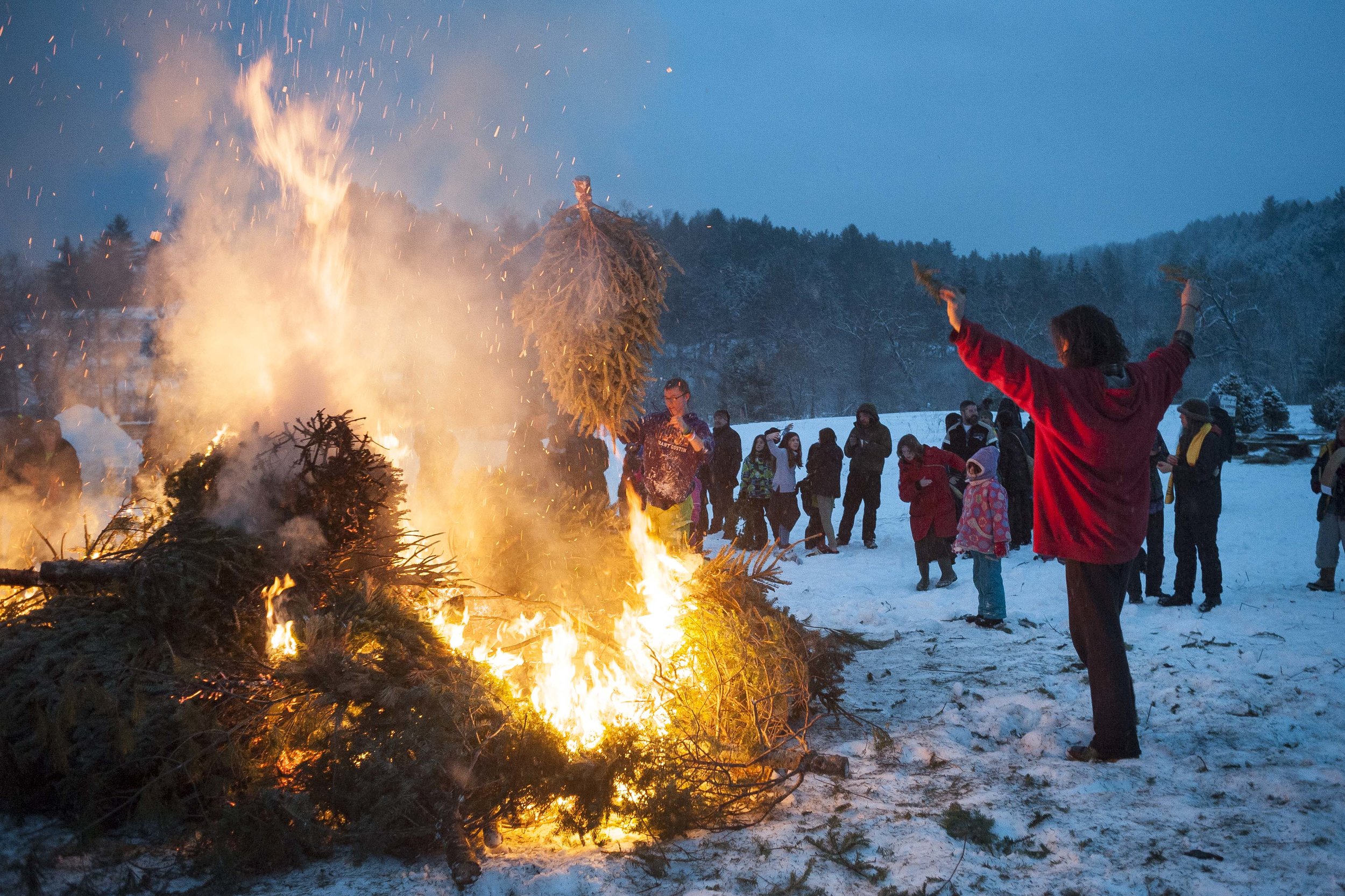 Participants gather around a bonfire during the conclusion of Ice on Fire, a winter festival held at the North Branch Nature center in Montpelier on Sunday, February 4th 2018.
Eagles fans chant the Eagles' victory song at Langdon Street Tavern in Montpelier as Patriots fans pack up and leave following Philadelphia's first Super Bowl victory on Sunday, February 4th 2018.
BFA St. Albans' Mark Howrigan (L) sends Spaulding's Tyler Murray (R) into the boards at the B.O.R Ice Arena in Barre on Monday, February 12th 2018.
 
Norwich Cadets partake in the 2018 Brian Bill Memorial Challenge on the Norwich campus in Northfield on April 8th, 2018. Bill was a 2001 Norwich graduate and Navy SEAL who was killed in Afghanistan in 2011.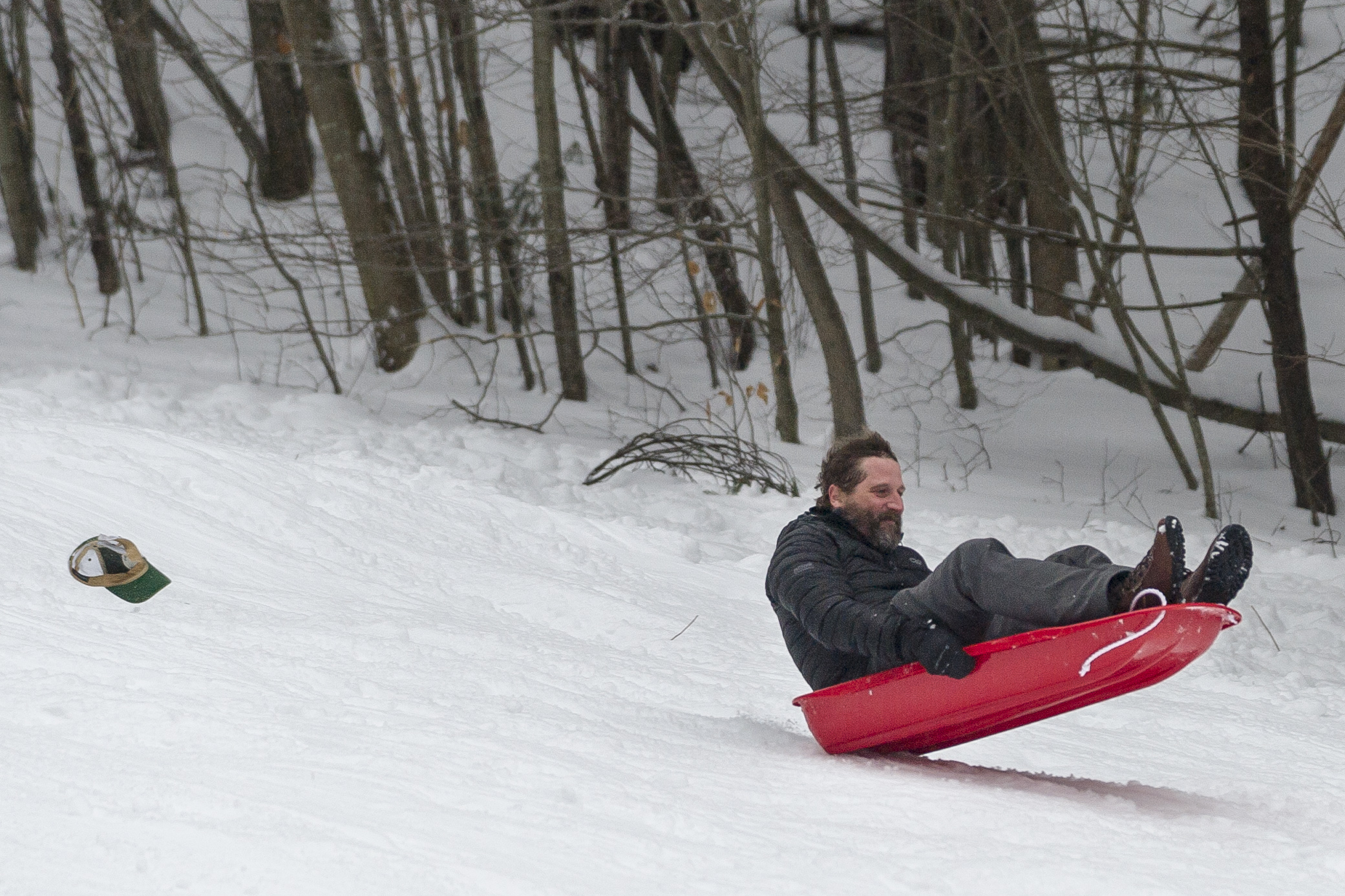 Patrick Hayes of Wadmalaw Island, South Carolina, loses his hat while making the most of his northern visit sledding at Hubbard Park in Montpelier on Sunday, February 11th 2018.
Dan Bragg (L) and Grace Pease (R) of Bragg Farm tap sugar lines in East Montpelier on Monday, February 19th 2018. Employees were working an area that was about 14 of the 70 total acres Bragg Farm will tap in the 2018 season--about 2200 buckets total.
Kermit O'Meara of Orange laughs with a bandmate between songs at the Moose Club in Williamstown on Sunday, March 4th 2018.
Worcester residents gather at the Doty Memorial School gymnasium for Town Meeting on Tuesday, March 6th 2018.
 
Luke Groom, 14, of Waitsfield, fires a slapshot through snow showers at The Skatium on Tuesday, December 26th 2017.
 
Rowan Smith is held by his father Jeremy at their East Montpelier home on May 15th, 2018. The Smith family is suing the city of Montpelier over emergency ambulance coverage necessary to respond quickly to Rowan's needs, who suffers from chronic seizures and breathing problems.
Elementary school students from Montpelier and Calais march from the Kellogg-Hubbard Library down State Street to the State House on Sunday, December 10th 2017. Students were protesting possible resource exploitation of the Alaskan Arctic National Wildlife Refuge included in the U.S. Senate tax bill.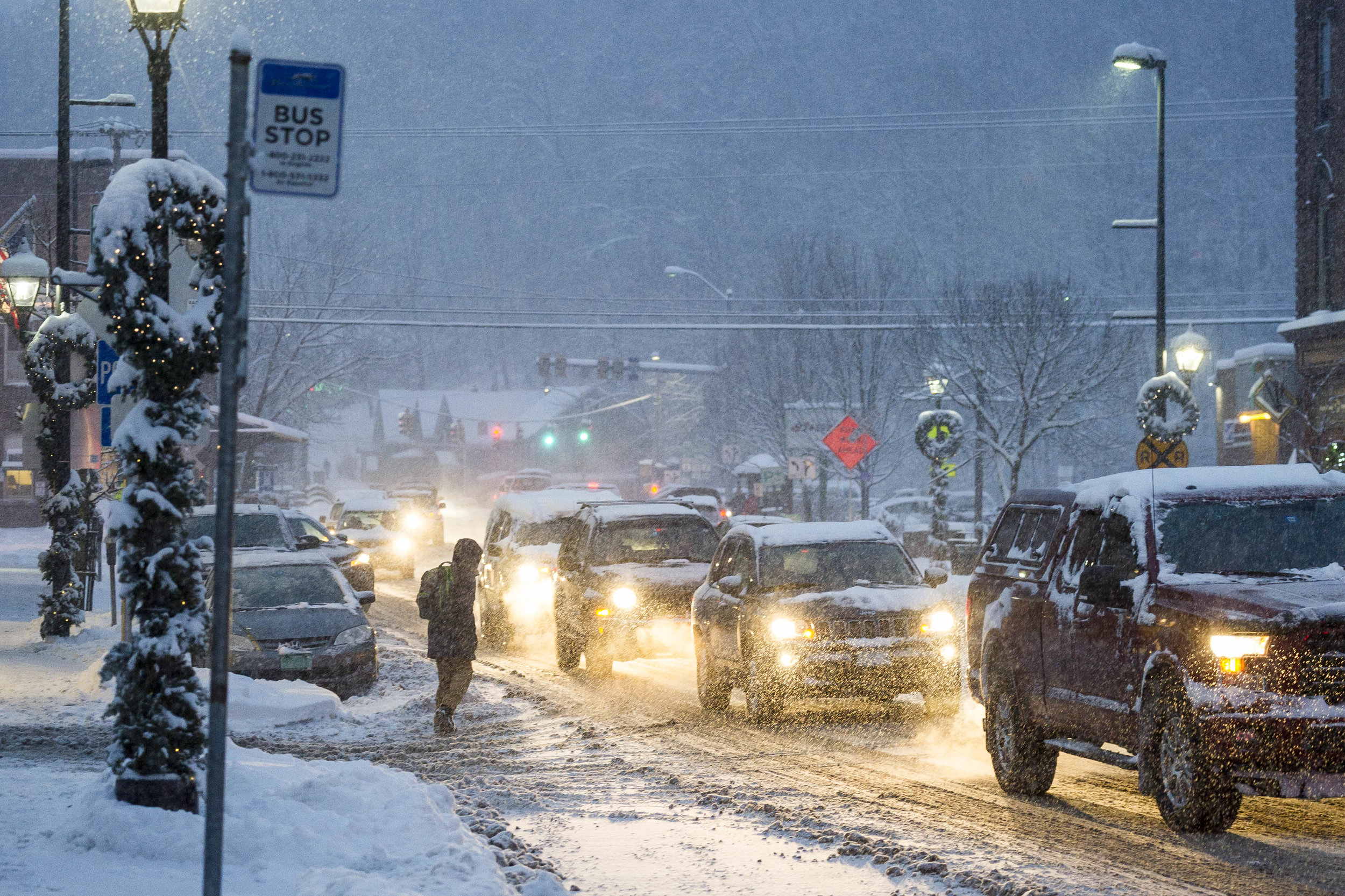 Traffic on Main Street in Montpelier crawls along as Vermont is hit with the 2017-2018 winter's first significant snowfall on Tuesday, December 12th 2017.
Spencer Pryce, a 1996 U-32 graduate, shares a moment with his daughter Zoe, 4, after the 25th annual Kris Kemp Alumni Hockey Games at the Central Vermont Memorial Civic Center on Tuesday, December 26th 2018.
Skiers take advantage of fresh snow at Mad River Glen in Waitsfield on Tuesday, December 26th 2017.
Senator John Rodgers (D-Essex-Orleans) urges Governor Phil Scott to "fulfill his campaign promises" and veto the gun control measures in S.55 during a presser at the State House in Montpelier on April 10th, 2018. Rodgers also apologized for his remarks on the floor the previous week, saying it was not his intention to be divisive.
Chris Hancock, a 3-year Rec Center player, watches on during an afternoon pickup game at the Montpelier Rec Center on April 16th, 2018.
Vermont State Police's Colonel Matthew Birmingham answers questions at a press conference on April 17th, 2018 in Montpelier, held to divulge the details and conclusion of the state's investigation into David Giffin's police shooting death at Montpelier High School in January.
Local musicians gather for a Swedish Jam Session at Bagitos Cafe in Montpelier on Sunday, January 28th 2018.
Jim and Jeanne Gricci of Northfield share a laugh with Sen. Bernie Sanders on May 19th, 2018 during a Veterans town hall and resource fair at Norwich University.
Tyler Andrews of Concord, MA finishes first (2:17:44) and is assisted by medical staff at the 30th People's United Bank Vermont City Marathon in Burlington on May 27th, 2018.
Cows run through a pasture in Calais along Max Gray Road on June 3rd, 2018.
A Cross Country skier for U-32 High School pushes through the cold as the sun sets during a race at Morse Farms in Montpelier on Tuesday, February 13th 2018.
Gabriela Calderon and Latisha Montgomery look up and embrace during a student-led ceremony to raise the Black Lives Matter flag on the U-32 flagpole on June 4th, 2018.
Camel's Hump mountain looms over Barre at sunset on Sunday, February 18th 2018.
U-32 celebrates their Division Two Championship victory over GMVS at UVM on June 9th, 2018.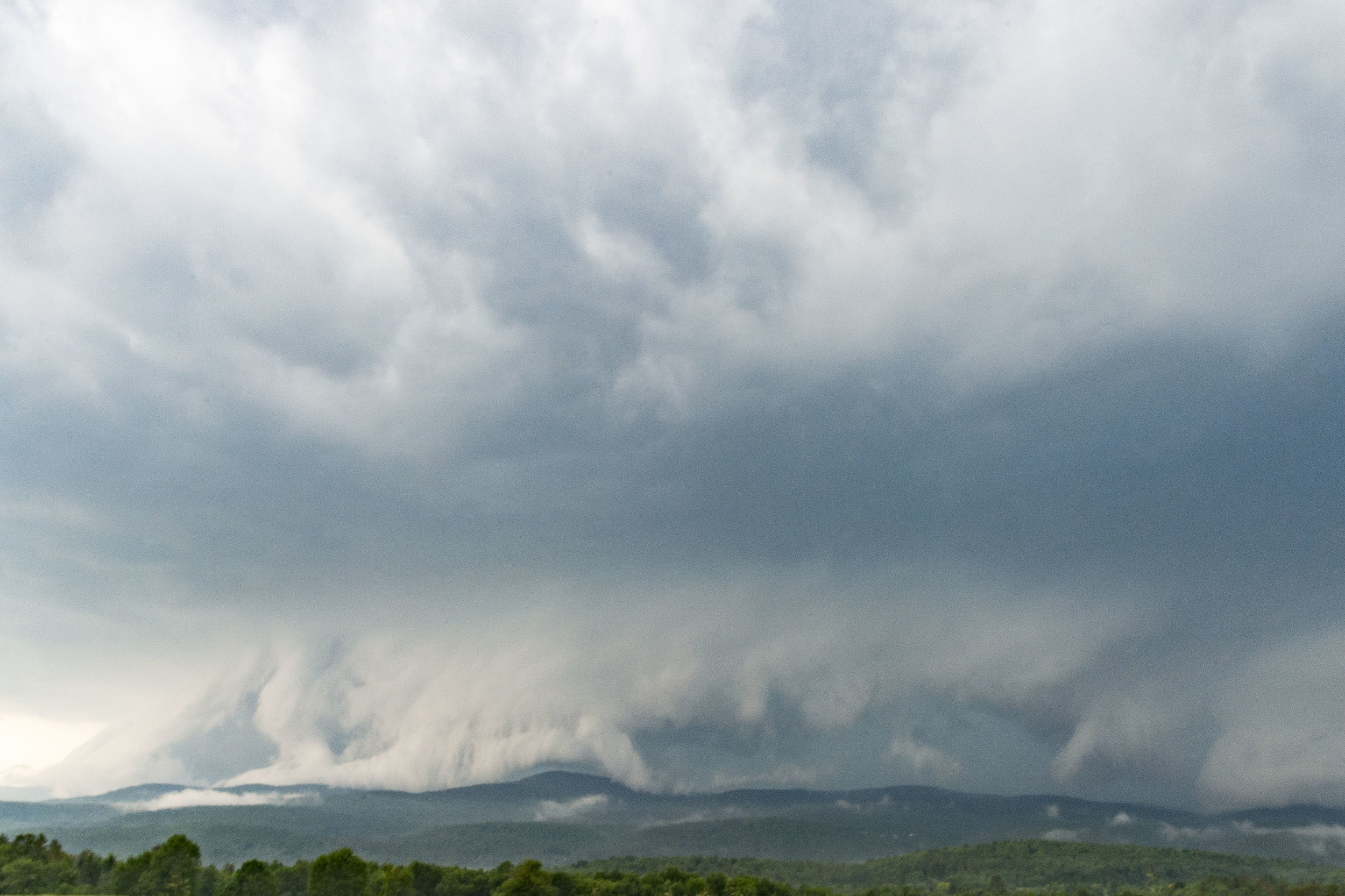 Severe storms approach Montpelier from the west on June 18th, 2018.
Different hues of blue and green are seen at the granite quarries in Graniteville on June 26th, 2018.
Behind the scenes at the 56th annual Memorial Day Classic at Thunder Road in Barre on May 27th, 2018.
U.S.S. Montpelier sailor JD Smith (left) hands a miniature American flag to Miss Vermont, Julia Crane, during the Independence Day Parade in Montpelier on July 3rd, 2018.